Gerardo Hernandez of Tortuga Sportfishing at La Paz reported warm summer-like weather and good fishing for his pangas on the Las Arenas side.
"We have big pargo lisa and big dog snappers at 2 or 3 locations at Isla Cerralvo, but they are difficult for anglers to land because they are close to the rocks," Hernandez said.
At Punta Perico on the Baja coast, Tortuga Sportfishing pangas caught a mix of sierra, snappers, cabrilla, and some jack crevalle of 30 to 40 pounds.
Sardina bait fish were in good supply at Isla Cerralvo, and good-sized ladyfish, or sabalo in Spanish, were available at Las Arenas to be used for roosterfish baits.
But, Hernandez said, the La Paz area continued to have very few vacationers present. "This season, we have very few tourists," he said. "But local anglers are taking advantage of the good fishing."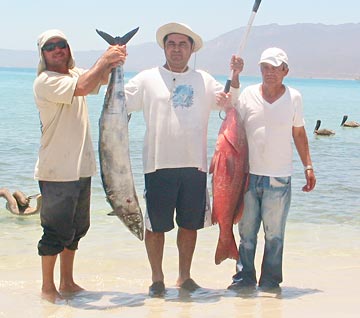 ENSENADA DE LOS MUERTOS--This big wahoo and nice dog snapper in bright spring spawn colors topped the day's mixed species catch for anglers Saul Nunez and Jesus Sanchez who fished aboard a Tortuga Sportfishing panga out of Ensenada de los Muertos south of La Paz with Capt. Rigo Lucero, left.